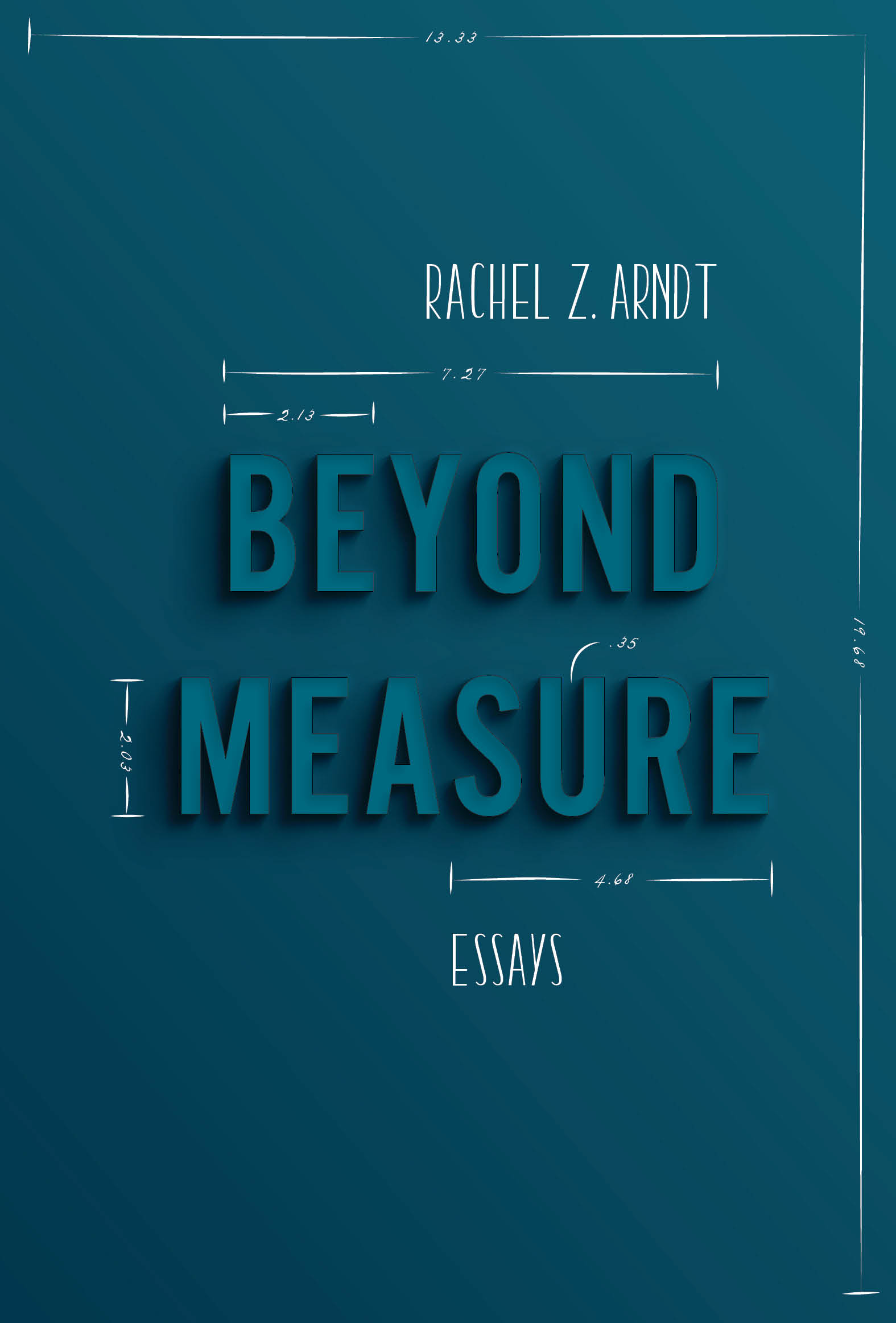 Titles 1998-2018
Beyond Measure, Rachel Z. Arndt
Reading Group Choices 2019 Official Selection
Book Riot, "Great Essay Collections from Winter/Spring 2018"
Chicago Review of Books, "Best New Books of April 2018"
The Masters Review, "Debut Author Spotlight"
Entropy, "Best of 2018: Non-Fiction Books"
With mordant humor and penetrating intellect, Rachel Z. Arndt casts her gaze beyond event-driven narratives to the machinery underlying them: judo competitions measured in weigh-ins and wait times; the significance of the elliptical's stationary churn; the standardized height of kitchen countertops; the rote scripts of dating apps; the stupefying sameness of the daily commute. "How much can data tell us?" Arndt asks, challenging us to consider the simultaneous comfort and absurdity of our exhaustively quantified—yet never entirely quantifiable—lives.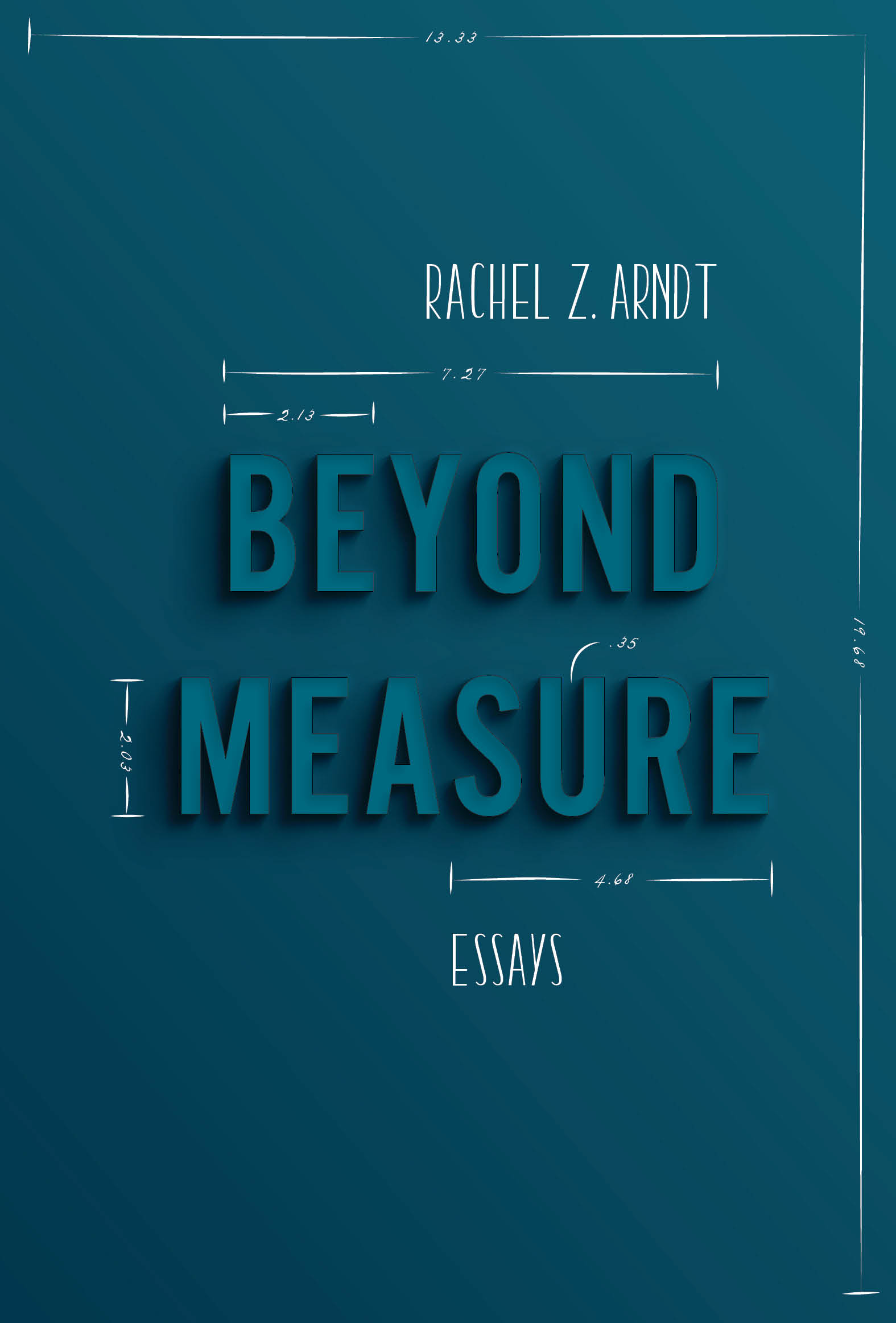 Additional Info
Rachel Z. Arndt's writing has appeared in Popular Mechanics, Quartz, The Believer, and elsewhere. She received MFAs in nonfiction and poetry from the University of Iowa, where she was an Iowa Arts Fellow and nonfiction editor of The Iowa Review. After stints in Rhode Island and New York, she now lives in Chicago, and works as a reporter at Modern Healthcare, covering healthcare technology.

PRAISE FOR BEYOND MEASURE:
"[Beyond Measure] is a delight to read. Arndt prompts readers to examine the 'measurements' imposed on their lives. . . . Her experiences will particularly resonate with female readers, who will identify with her coping mechanisms for dealing with sexist measurements imposed by society, from stereotypes of narcoleptic women as hysterical and attention seeking to false constraints placed on female intelligence and physical strength. Her tone is poignant and undogmatic. . . . Arndt's debut provides close insight into one woman's personal struggles while never becoming overbearing or overly solemn."
—Publishers Weekly
"[H]er strongest pieces place her at the center of larger forces that make her (and us) feel abnormal. . . . A keen, close study of the neuroses attached to everyday living."
—Kirkus Reviews
"Arndt is a thoughtful, deliberate writer—one might say measured—infusing her prose with wit and flashes of poetic insight. . . . And Beyond Measure is an elegantly structured book, its flow and recurring motifs reminiscent of Leslie Jamison's The Empathy Exams."
—The Masters Review
"Look to this book for darkly funny investigations of the world around us."
—Book Riot
"Beyond Measure is a compulsively readable collection that has measurement at its heart."
—Newcity Lit
"One hallmark of Sarabande Books is authors who transform everyday personal narratives into exciting and contemplative works, a skill which Arndt performs effortlessly. Arndt's voice is evocative as she muses, causing me to consider how I navigate through Chicago and what I do in the liminal spaces and my rare pockets of free time."
—THE Magazine
"[T]he essays in Beyond Measure are beautiful in an intricate, knotty way, as in how math is beautiful, or the interior of a mechanical watch. . . . Once, when reading Beyond Measure on the train, I missed my stop, so engrossed was I in the book. . . . And isn't that what all writers want, for readers to be so engrossed in their work that readers leave their lives, at least for a little while, letting the writing take over entirely."
—The Collapsar
"Chicago writer Rachel Z. Arndt crunches numbers in her first book of essays. From spin-class RPMs to airport ETAs, it's an obsessive and enlightening look at the way we quantify our lives."
—Splash
"Rachel Z. Arndt's collection demonstrates beautifully the marvelous ability of the personal essay to carve out of the ordinary events of everyday life a piece of shaped experience."
—Vivian Gornick
"Of all the weights and measures used to gauge the 'human metronome' of the body in time in this meticulous and arresting first collection—its lonely circadian rhythms, desolate states of listless fatigue, and all manner of existential hurry-up-and-wait—Arndt's elegant and patient syntax, calibrated to keep pace with her attentive interiority, is the most sensitive instrument of all."
—Robyn Schiff

"In the grip of Rachel Z. Arndt's spellbindingly obsessive mind, nearly everything shines with measurability and poetry and disturbing familiarity. She studies bird dissections, sails through a lightning storm, explains the etiquette of scamming Bed Bath & Beyond, kicks ass at a judo tournament, ponders the cultural history of the heights of kitchen counters, and formulates a phenomenology of creeping on people at the gym. Riding the folds of Arndt's remarkable imagination, we come to realize that her obsession is in fact a cultural obsession, an American predicament, our most curious collective pastime."
—John D'Agata, author of About a Mountain and A New History of the Essay