Titles 1998-2018
Post Traumatic Hood Disorder, David Tomas Martinez
CLMP 2019 Firecracker Award Finalist in Poetry
PEN America Los Angeles, "July Book Club Pick
The New York Times, "New & Noteworthy"
The American Poetry Review, Issue 47 No 1, Featured Poet
The Rumpus, "What to Read When You Want to Celebrate Poetry"
In the Margins Book Awards, 2019 Social Justice/ Advocacy Nominee
"Look at homie on the beach picking shells in dress shoes," David Tomas Martinez writes in his raw, electrifying second collection. His widely praised debut, Hustle, revealed the singular voice of a young man traumatized by the hood he was strong enough to transcend. In Post Traumatic Hood Disorder, he returns with a haunted depiction of life after tumult and hurt. Martinez moves swiftly from Che to Sir Mix-A-Lot, from Versace to Icarus, from Mt. Sinai to the Eldjga volcano, from Pegasus to a pair of father and son bulls, protagonists of a dirty joke. "My hustle has been a stone/ breaking the bad luck of a lake," he writes, and the poems maneuver anxiously between that bad luck lake and the writer he has become. This is the question, and the struggle, at the center of these poems: who am I now? Where does a study of Greek gods fit with the memory of watching porn with a group of men? How did machismo affect my mysteriously broken relations with women? Am I more kin to Montaigne than Kanye? These questions define our contemporary obsessions, and David Martinez adds to that conversation poems that dazzle, even as they move and enlighten us.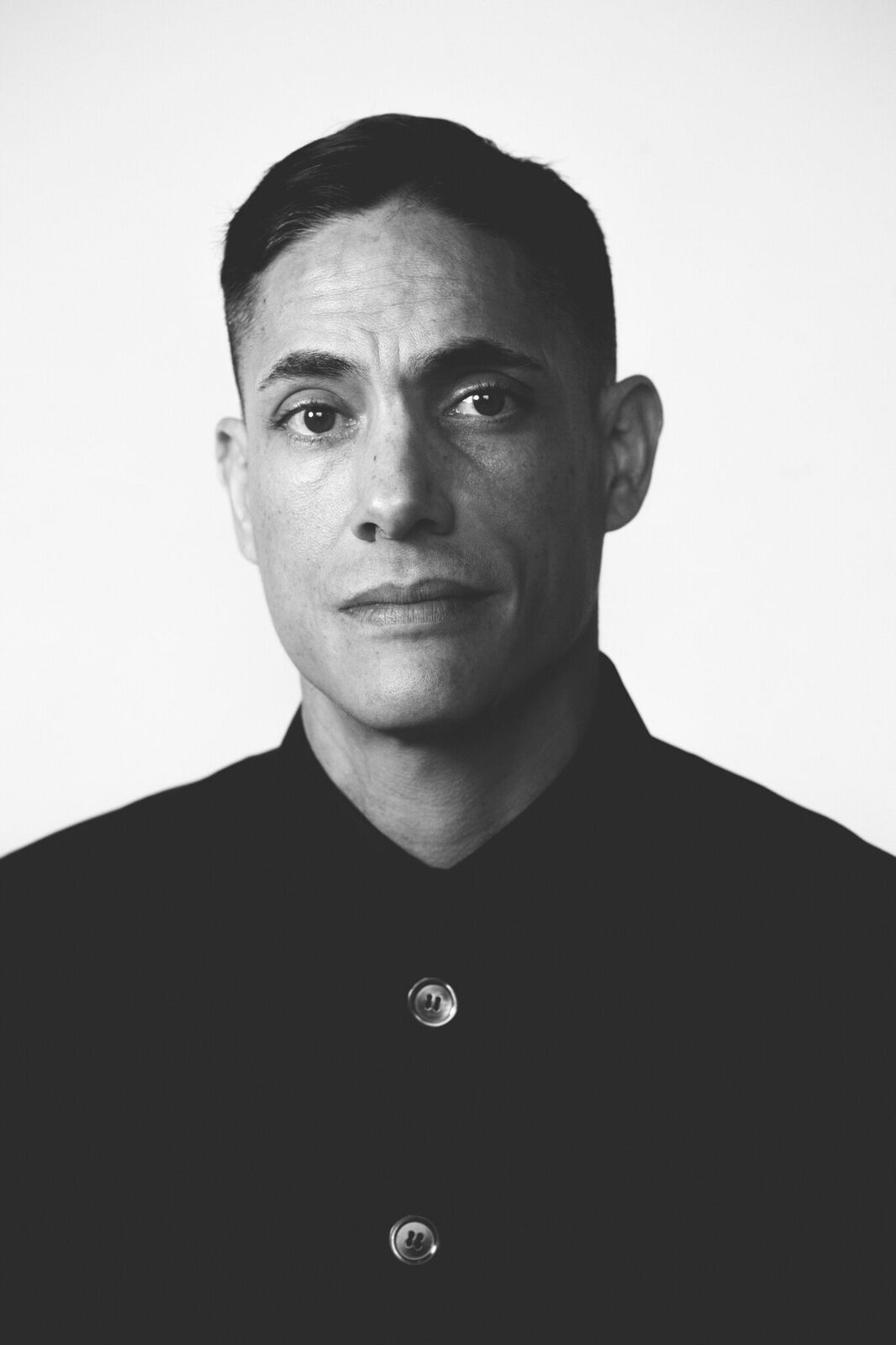 Additional Info
David Tomas Martinez is a CantoMundo fellow and recipient of a 2017 NEA Fellowship, a Pushcart Prize, the Verlaine Poetry Prize, and the Stanley P. Young Fellowship from Breadloaf. Hustle, his debut collection from Sarabande, won the New England Book Festival's Poetry Prize, the Devil's Kitchen Reading Award, and $10,000 from the Antonio Cisneros Del Moral Foundation. Poems from the new book have appeared in Tin House, Oxford American, Boston Review, Prairie Schooner, Ploughshares, and Poetry. He lives in Brooklyn.
PRAISE FOR POST TRAUMATIC HOOD DISORDER:
"Martinez follows his acclaimed debut, Hustle, with a series of lyrical riffs on American culture that juxtapose literary erudition and swaggering vernacular. . . . [T]hese poems reveal an ear honed on poetic tradition and hip-hop ('About suffering they were never wrong,/ the old rappers') and explore intersections of identity with strikingly musical results."
—Publishers Weekly, Star Review
"In his second collection, Martinez has fun with the high-low mash-up that characterizes so much poetry today — one poem here is called 'Footnoting Biggie Lyrics Like 'Why Christmas Missed Us'' — but he also includes tender love poems and searching personal reminiscences. "
—The New York Times, "New and Noteworthy"
"In Hustle (2014), his code-switching debut book of poetry, Martinez let loose with lyrics that brought the poet's street-smarts and book-smarts cascading together. In his second collection, Martinez's poetic voice is more assured and no less ambitious. . . A cynicism undercuts the collection's gravity, and Martinez builds a complex humor throughout, using deadpan wit and wordplay to deliver amusing observations. . . . In perfectly contrasting lyrics, Martinez blends echoes of pop culture with deeply felt evocations of masculinity and history, with nostalgia for Notorious B.I.G. and Nietzsche occupying the same headspace."
—Booklist
"[Martinez's] lines are sharp and musical, deftly split and carefully crafted. Flexible line breaks create layered poems that nod to multiple, simultaneous meanings. . . . Martinez's are poems to be experienced; they engage sight, sound, and meaning all at once. Martinez melds an urban background, a modernist's attention to precision, and a rapper's flow to form an irresistible collection of contemporary poetry."
—Foreword Reviews
". . .one of American poetry's authentic new voices"
—The San Francisco Chronicle
"The wild ostentation of late 20th- and early 21st-century America becomes the prism through which readers of David Tomas Martinez's Post Traumatic Hood Disorder. . . perceive might and right, ennui and love and solitude and the oceanic depths of history."
—America: The Jesuit Review
"I love this Post-Traumatic Hood Disorder where we break in between the fissures of a Cubist Piri Thomas, an elegant Oscar Z. Acosta, a Sartre with a hoodie, and a Nietzsche in the city of Danger. The line-break rhythms and scenic jump cuts are masterful and the raw and silky textures of places and mind spaces are radical and original. Maybe it's the sorrow, the suffering, the desolation that pulls me into this collection, in particular when it lingers as we are almost lured away by the 'cross hatched' finesse of the poems and speakers as a whole. Original to the bone, deep cuts, power punches and intimate portraits—truth art, truth word, a major voice. Ever seen a patched-up Ferrari engine race down Main Street without a body? Check this out. Brave Soul."
—Juan Felipe Herrera, Poet Laureate of the United States
"David Tomas Martinez offers us the America that is the music all his own. There is not a fake note in this orchestra. The highs give you the large, ever expanding breath of real opera music, and the lows leave you limping, moaning in hurt for days. For if this is the kind of poetry that takes no prisoners, it is also the kind that opens itself bravely, stands naked in front of the world, with nothing to defend itself with but its vocal music, the hum of its voice—and its piercing, honest, larger-than-life, feisty—and unforgettable—tone. Here it is, ladies and gentlemen: the truly American poetry."
—Ilya Kaminsky
"Martinez's coming-of age-poems are rife with the realities of life in the hood. Martinez uses slang, a unique blend of classical and hip-hop references, and his singular style to showcase his past mistakes and a future of possibility."
—In the Margins Book Awards Committee
"This is a book of urgencies, and Martinez rises old-school like Icarus, intent on leaving anguish, falseness and bullshit in his wake…. [Post Traumatic Hood Disorder] discloses both the miring and the possibilities that can be wrested from the crosshatch of family, class, masculinities, sex, mythology, race and culture. The mix is the central impulse of this book, and it is seamless. [Martinez] alludes to the 'old masters' and we soon realize he has become one as the line between Frost and Biggie blurs in ascension. Here he notes, 'Distance is my higher power.' By raw reflection and vertiginous attempts at flight, he means to ascend no matter the cost and so do we."
—Vievee Francis
"In his first collection, Hustle, David Martinez showed himself to be one of the most exciting and visceral poets of his generation, with his dark, humorous, and culturally exploratory poems. His second collection, Post Traumatic Hood Disorder demonstrates how fiercely he has cultivated and driven his talent further. This new work is no less intense; Martinez's poems always feel written from the struggle of a soul trying to find a way to breathe and grow. Sex, race, class, and culture are twined together in the subject matter of his tumultuous poems, but it may be the verbal stylistics of Post Traumatic Hoodie Disorder that are their most memorable feature--stutter-stepping, careening and whiplashed, alternately elegant in rhetoric and defiantly idiomatic. Martinez's poems showcase a versatility of language and a wild-hearted poetic energy that is thoughtful, vulnerable and distinctly American."
—Tony Hoagland
"The act of balancing the past and the present is where the true brilliance of David Tomas Martinez's second book comes through. Throughout Post Traumatic Hood Disorder, the nebulous place that he holds through his own doubt and struggle, and the inability of others to fully see him, does give these poems a clear thread of 'PTHD,' to use the book's title in the way it seems to suggest. The flashbacks to the past, the crippling of memory, longing for what came before, loving now yet wanting to run from the present, and many other paradoxes make this collection a refusal to ignore what makes a person whole."
—Michael VanCalbergh