Titles 1998-2018
Puro Amor, Sandra Cisneros
PEN/Nabokov Award for Achievement in International Literature
Sandra Cisneros has a fondness for animals and this little gem of a story makes that abundantly clear. "La casa azul," the cobalt blue residence of Mister and Missus Rivera, overflows with hairless dogs, monkeys, a fawn, a "passionate" Guacamaya macaw, tarantulas, an iguana, and rescues that resemble "ancient Olmec pottery." Missus loves the rescues most "because their eyes were filled with grief." She takes lavish care of her husband too, a famous artist, though her neighbors insist he has eyes for other women: "He's spoiled." "He's a fat toad." She cannot reject him. "…because love is like that. No matter how much it bites, we enjoy and admire the scars." Thus, the generous creatures pawing her belly, sleeping on her pillow, and "kneeling outside her door like the adoring Magi before the just-born Christ." This beautiful chapbook is bilingual and contains several illustrations—line drawings by Cisneros herself.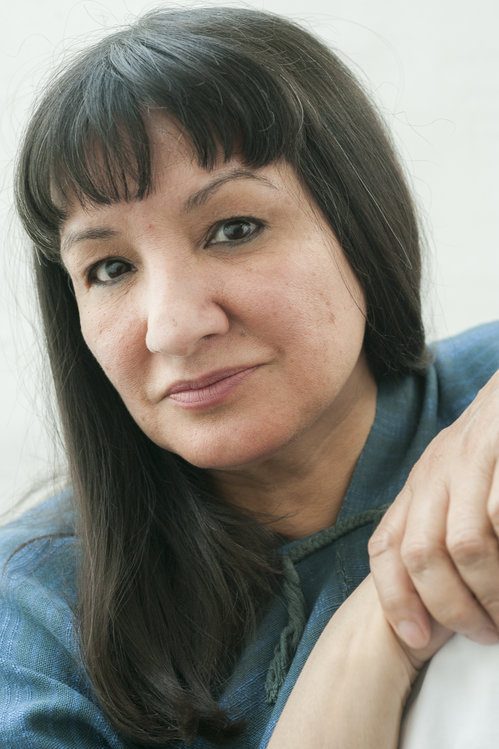 Additional Info
Sandra Cisneros is a poet, short story writer, novelist, essayist, whose work explores the lives of the working-class. Her numerous awards include NEA fellowships in both poetry and fiction, the Texas Medal of the Arts, a MacArthur Fellowship, several honorary doctorates and book awards nationally and internationally, and most recently Chicago's Fifth Star Award, the PEN Center USA Literary Award and the National Medal of the Arts, awarded to her by President Obama in 2016. The House on Mango Street has sold over five million copies, been translated into over twenty languages, and is required reading in elementary, high school, and universities across the nation. Founder of awards and foundations that serve writers and a dual citizen of the United States and Mexico, Sandra Cisneros earns her living by her pen.
PRAISE FOR PURO AMOR:
"A short story about love, animals, art, and Frida Kahlo and Diego Rivera. . . . A solid short story in a beautiful, thin volume from an author we wish we heard more from."
—Kirkus Review
"Her unique writing style and focus on the working class [have] made Cisneros a renowned literary figure."
—Viviana Garcia-Blanc, NPR, "WBEZ Worldview"
"Sandra Cisneros knows both that the heart can be broken and that it can rise and soar like a bird. Whatever story she chooses to tell, we should be listening for a long time to come."
— The Washington Post Book World
"Puro Amor explores perspective dually, giving readers both an intimate view of the protagonist's daily life and the perspective of the townspeople looking in. . . . The fluctuating perspective grants readers the simultaneous participation in the familiarity of the Missus' chores, and the outside criticism of the townspeople—a juxtaposition that gives room for Cisneros to be both silly and reverent in her exploration of the inherent arduousness of partnership, and ultimately to show that animals do give the purest love."
— The Arkansas International
"Sandra Cisneros makes me so happy that I am a reader, so joyful that she is a writer, and even more exhilarated that she is part of our world."
—Edwidge Danticat
"Cisneros draws on her rich [Latino] heritage…She is not only a gifted writer, but an absolutely essential one."
—Bebe Moore Campbell
"Sandra Cisneros is one of the most brilliant of today's young writers. Her work is sensitive, alert, nuance-full. . . rich with music and picture."
—Gwendolyn Books
"Thank you, wicked wicked woman, for shooting up these loose arrows to the high hells of poetry, passion and humor."
—Eduardo Galeano
"Sandra Cisneros is like a bee that extracts new honey from old flowers . . . [she] possesses that most difficulty ability—allowing us to imagine that which ever existed."
—Elena Poniatowska