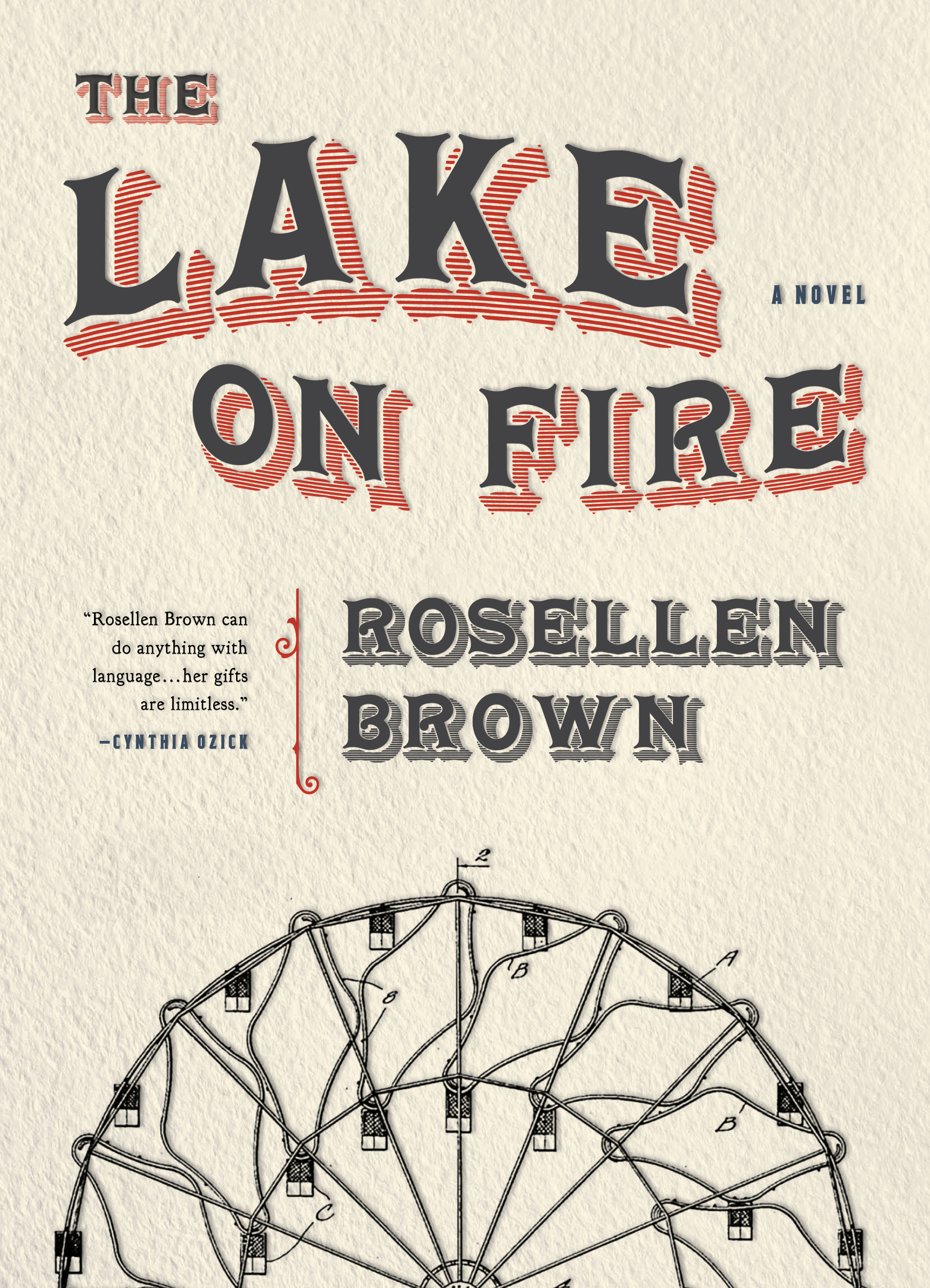 Titles 1998-2018
The Lake on Fire, Rosellen Brown
Kirkus Reviews, "Best Fiction of 2018"
Entertainment Weekly, "Fall preview: The 20 books you need to read this season"
Newsday, "What to read this week"
The National Book Review, "5 Hot Books"
Chicago Public Library, "Best of the Best Books for 2018"
2019 Eric Hoffer Book Award, Montaigne Medal Finalist
Reading Group Choices 2020 Official Selection
The Lake on Fire is an epic narrative that begins among 19th century Jewish immigrants on a failing Wisconsin farm. Lured by the potential for new life, Chaya and her brilliant younger brother Asher flee to industrialized Chicago. Surrounded by the superficial extravagance of the Columbian Exposition, the pair depends on factory work and pickpocketing to scrape by. The Lake on Fire is a keen examination of social class, family, love, and revolution in a historical time marked by a tumultuous social landscape.
For a classroom-ready reader's guide written by the author herself follow this link, and explore more titles with reader's guides in Sarabande in Education.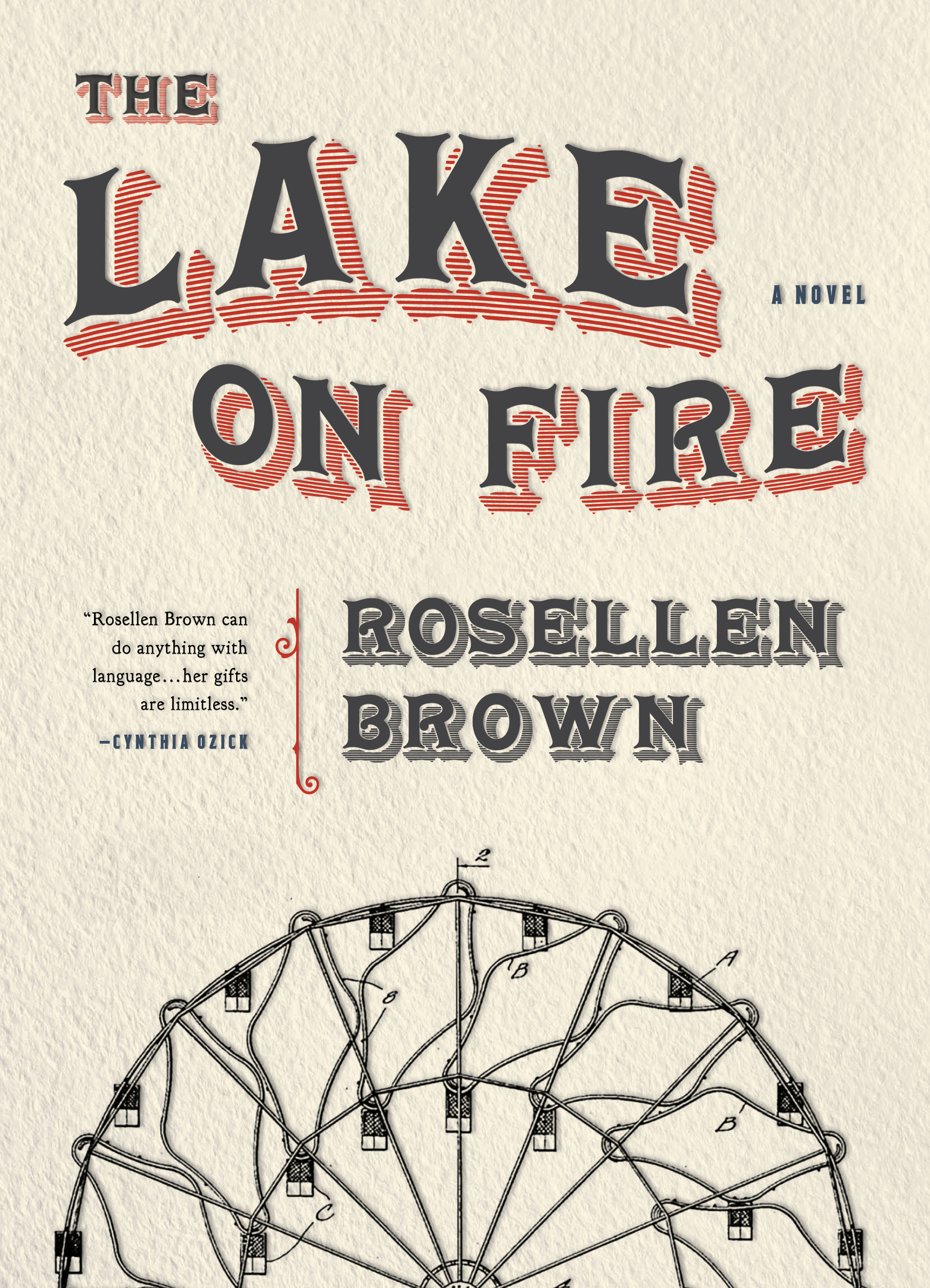 Additional Info
Rosellen Brown is the author of the novels Civil Wars, Half a Heart, Tender Mercies, Before and After, and six other books. Her stories have appeared frequently in O. Henry Prize Stories, Best American Short Stories and Best Short Stories of the Century. She now teaches in the MFA in Writing Program at the School of the Art Institute of Chicago and lives in Mr. Obama's neighborhood, overlooking Lake Michigan. 
PRAISE FOR THE LAKE ON FIRE:
"Often praised for her prose, in her long-awaited sixth novel Brown (Half a Heart, 2000, etc.) sings as euphoniously as ever, whether she is writing about the filth and stench of the city, about the magnificence of the Columbian Exposition of 1893, or about love. . . . A transporting drama of class and love, steeped in period feeling, written with beauty and conviction."
—Kirkus Reviews, starred review
"In her first historical novel, an exquisite, suspenseful, and character-driven tale of two cities, poet and deeply inquisitive fiction writer Brown (Before and After, 1992; Half a Heart, 2000) takes measure of the divide between rich and poor during Chicago's resplendent World's Columbian Exposition of 1893. Narrating from Chaya's and Asher's divergent perspectives, Brown describes with sensuous intensity the lavish lives of the elite and the desperation of the unemployed, the miasmas of sweatshops and the radiant fair, which decays into a mere facade. . . . In an astute and enrapturing variation on Edith Wharton's foundational Gilded Age novel, The House of Mirth (1905), and, in accord with Dickens, Dreiser, and Doctorow, Brown imaginatively, compassionately, and spellbindingly dramatizes timeless questions of survival and social conscience."
—Booklist, starred review
"In Brown's stellar, evocative novel, Jewish siblings Chaya and Asher Shaderowsky move with their family to America from Ukraine to work on a Wisconsin collective farm. . . .[Brown] transports the reader to Gilded Age Chicago and recreates the Jewish immigrant experience as incisively as Henry Roth in Call It Sleep."
—Publishers Weekly, starred review
"I can't remember yesterday, but when it comes to books that broke the ice around my heart (to paraphrase Kafka), I remember. Knopf editor Carole Baron and I were having lunch, talking books, when Rosellen Brown's 1992 novel, Before and After, came into the conversation. We had both loved it, and we both wondered if it would hold up. Next thing I know, there's a hardcover edition in my mailbox. . . . And yes, it does hold up, which is why I was excited by the news that, in October, Sarabande Books is publishing The Lake on Fire, Brown's first novel in 18 years."
—Louisa Ermelino, Publishers Weekly, "Open Book: Comeback Novel Spotlights the Haves and Have Nots"
"Rosellen Brown knows things. . . .Rosellen Brown has a great ear, a great eye, a great love of the painful twists and turns that happen in a human life and the big twists and turns of American history. . . . The Lake on Fire is about the making of America, the bones on which it has always been built, and the way the wheels turn (even now) and the way they turned then, moving forward, crushing some, advancing others, and within this epic story, the making of a person, Chaya Shaderowsky, rising and falling, failing and flailing and making her painful, blazingly aware way, in our America."
—Amy Bloom, The New York Times Book Review, "American Girl"
". . .The Lake on Fire is a poetic and moving meditation on the choices we make to achieve the lives we imagine."
—Seattle Book Review
". . . a sharp study in class, politics, and manifest destiny."
—Leah Greenblatt, Entertainment Weekly
"If you don't know this name, get familiar: Brown is one of our best living fiction writers, spending much of a career well under-the-radar. Her new novel, remarkably her first in nearly 20 years, is an epic that questions the American dream in a 19th-century immigrant saga."
—Entertainment Weekly, "Fall preview: The 20 books you need to read this season"
"It's been 18 years since we had a novel from the author of Civil Wars and Tender Mercies, but this tale of Jewish immigrant siblings in 19th-century Chicago was worth the wait. Chaya manufactures cigars in a sweatshop; Asher survives as a petty thief; Brown depicts their world with prose that soars."
—Tom Beer, Newsday
"In The Lake on Fire, Brown has reconstructed late-19th-century Chicago with astonishing skill. She has made the vanished World's Columbian Exposition, with its vaudeville like Midway and its mammoth Ferris wheel, acutely alive. She has stained our fingers with her cigar factory and bulged our pockets with stolen jewels. And yet, for all of its sensate qualities, Brown's story is finally a love story, which is to say a timeless story about why and how and at what cost we take care of one another. . . . The Lake on Fire is her master class."
—Beth Kephart, Chicago Tribune
"Her first book in 18 years, The Lake on Fire is a fascinating look at the World's Columbian Exposition from the perspective of young Jewish immigrants who flee their family farm in Wisconsin. "
—Adam Morgan, Chicago Magazine, "THE WORLD'S FAIR REVIVER: Rosellen Brown's new novel brings the White City back to life."
"The Lake on Fire. . . is a deceptively addictive, grand saga of life and love leavened by Chicago's Gilded Age seductions."
—David Rutter, Daily North Shore
"The beauty of Brown's work. . . is that she has not written a Cinderella story: Chaya is not looking to be relieved of her class consciousness, even while she hopes to someday escape poverty. . . . [The Lake on Fire] gives insights into human hearts and debates whether love can overcome the economic realities of the world."
—Rabbi Rachel Esserman, The Reporter
"The Lake on Fire, a fascinating new novel by Rosellen Brown, though lacking the murder mystery factor, goes Erik Larson's 2003 tome one better. She not only takes a microscope to the 1893 Columbian Exposition, but amplifies and embellishes the creation and dissolution of the era's fabled White City with her tale of two young Eastern European transplants who brave the wilds of Chicago with passion and courage. . . . [W]hen it comes to Brown's latest, the White (or even in some cases, Grimy) City should be proud."
—Laurie Levy, Another Chicago Magazine
"Brown's integration of historical events into the narrative shows Chicago in all its enticing glory, and also its grim reality. All told, this is a deeply rich read."
—Helene Williams, Historical Novel Society
"In response to her novel, The Lake on Fire, Rosellen Brown has been compared to both Jane Austen and Tillie Olsen. After reading it, I can see the disparate strands of each. In fact, it's almost like Tillie Olsen got her hands on an early copy of Mansfield Park and said, 'Come now, Jane, you know this would never work in the real world.'. . . [The book's] dual narrative forces the reader to move between two modes of empathy: one of anxiety for Chaya's strife, and the other, a nod to the more universal concerns we have for the poor, like workers who are treated unfairly, or large segments of the population living in filth. . . . In describing this suffering, Rosellen Brown's prose shines. It is lucid, rhythmic and offers vivid descriptions of the city. . . [W]e see Brown's ability to not only recreate late 19th century Chicago, but recreate it with beautiful sentences."
—Ploughshares
"Despite its obvious relevance to contemporary matters, the novel is not merely a critique of the present disguised as a narrative set in the past, nor are the characters simply thinly veiled excuses for pitting different political ideologies against each other; their psychologies extend far beyond the views they embody."
—Laura Nicoară, Women's Review of Books, "Ashes to Ashes"
"With her first book in nearly two decades, the author of Before and After and Half a Heart has written a big, ambitious social novel that registers growing inequality, with fully realized characters, a marvelous sense of place, and a profound heart."
—The National Book Review
"Rosellen Brown's The Lake on Fire is a stunning work of historical fiction, filled with the sights and sounds of the Gilded Age in Chicago."
—The Arkansas International
"[I]t's the characters and the language that make this book outstanding."
—Aaron Howard, Jewish Herald-Voice
"Justly revered local author Brown writes big novels about families and social issues that often end up on the big screen. Her latest begs for such treatment."
—Anne Moore, Crain's Chicago Business
"Beautifully written."
—The Christian Century
"A thrilling new addition to the canon of literature about Chicago's history. "
—Chicago Public Library

"Rosellen Brown is a master storyteller whose balance of the domestic and the historical has always been impeccable. Chaya-Libbe's coming of age in the gilded era of Chicago is unforgettable."
—Jan Weismiller, Prairie Lights, Iowa City, Iowa
"Rosellen Brown's astonishing new novel about 19th century Chicago reads as if it were written by one of the great 19th century novelists—Eliot, Tolstoy, Dickens all come to mind because of the breadth and depth of her insight into character and her understanding of social class, and the pure elegance of her writing. It's a Cinderella story that knows not to be a Cinderella story and it takes you into the heart of a Chicago teeming with poverty, crime, money, greed, do-gooding, and ambition--a long-lost Chicago that gave birth to what the city is today."
—Nina Barrett, Bookends and Beginnings, Evanston, Illinois
"What a pleasure to have a new novel from Rosellen Brown, an important voice in fiction; and what a particular pleasure to have this novel, which is not only a brilliant coming-of-age-in-the Gilded-Age story, as well as an engrossing sibling story, but is also a keen exploration of ideas around heroism, making one's way in the world, and the tensions between material comforts and the persistent desire to be of use. Vivid and rich, Rosellen Brown's book swept me in and held me there."
—Meg Wolitzer
"What a remarkable feat of imagination, recreation and literary craft is this superb novel set in turn-of-the-century Chicago.  What really drives it, in the best tradition of Dreiser, Doctorow, Bellow, Tillie Olson, Anzia Yesierska and Henry Roth, is the deeply sympathetic involvement in moments of consciousness and action, by which a seemingly lost world is triumphantly retrieved."
—Phillip Lopate 
PAST PRAISE FOR BEFORE AND AFTER:
"Powerful…This novel, for all its philosophical provocation and literary merit, is also an unabashed, read-until-dawn page-turner."
—Michael Dorris, New York Times Book Review
PAST PRAISE FOR TENDER MERCIES:
"…prose as masterful, and as moving, as any being written today."
—Joyce Carol Oates, New York Times Book Review
PAST PRAISE FOR HALF A HEART:
"Like Jane Austen, she digs deeper and deeper into the territory she has staked out, always coming up with brilliant new jewels. In her books, Brown explores intimate family relationships while engaging social issues."
—Laurie Muchnick, Newsday