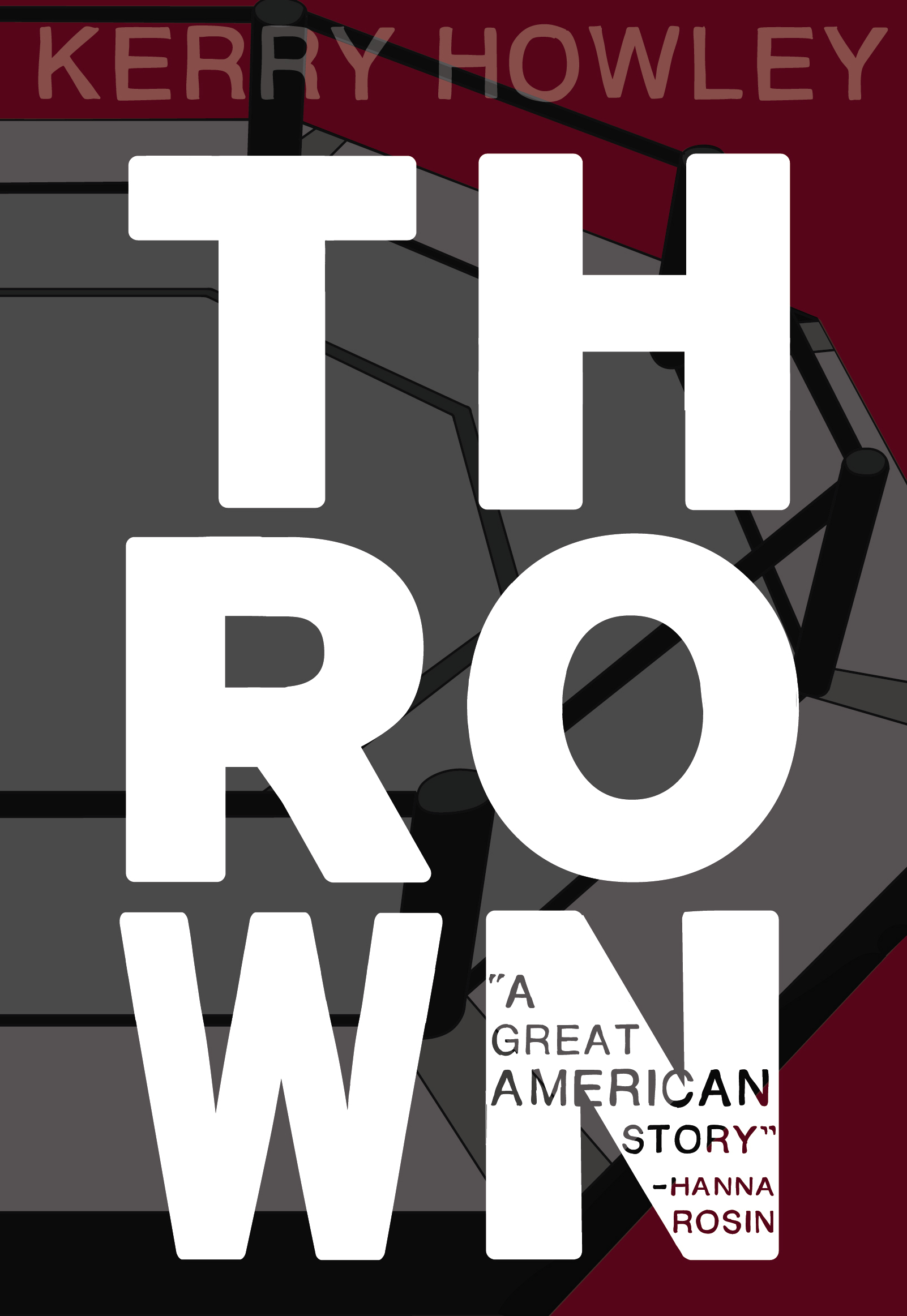 Titles 1998-2018
Thrown, Kerry Howley
New York Times Book Review Editor's Choice and Notable Book of 2014
NPR Best Book of 2014
Slate Book Review Best Book of 2014
Time Magazine's #2 Best Book of Nonfiction for 2014
October 2014 American Booksellers Association IndieNext Pick
Listed as one of the "Big Indie Books of 2014" by Publisher's Weekly
In this darkly funny work of literary nonfiction, a bookish young woman insinuates herself into the lives of two cage fighters—one a young prodigy, the other an aging journeyman. Acclaimed essayist Kerry Howley follows these men for three years through the bloody world of mixed martial arts as they starve themselves, break bones, fail their families and form new ones in the quest to rise from remote Midwestern fairgrounds to packed Vegas arenas. With penetrating intelligence and wry humor, Howley exposes the profundities and absurdities of this American subculture.
For a classroom-ready reader's guide written by the author herself, follow this link, and explore more titles with reader's guides in Sarabande in Education.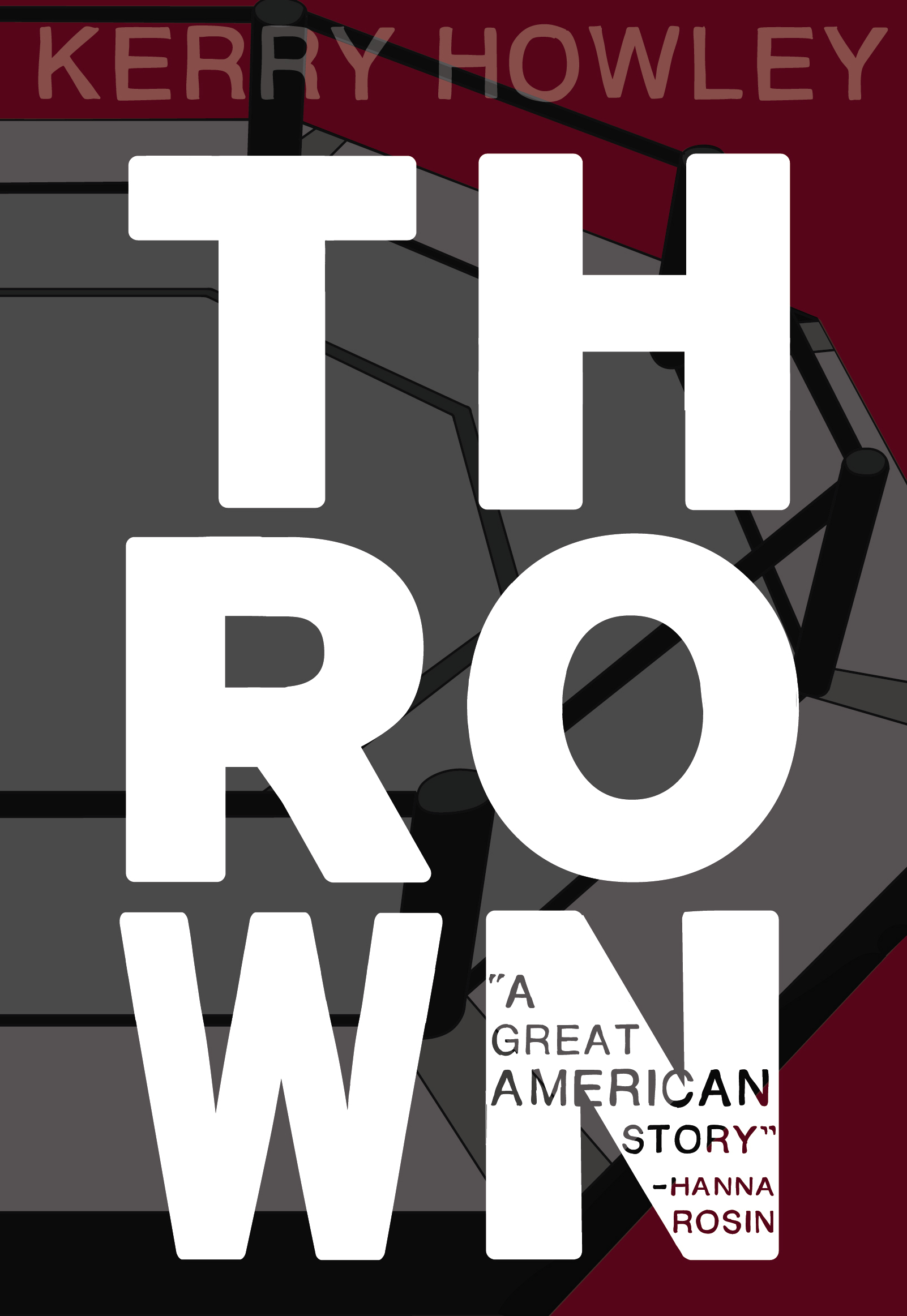 Additional Info
Kerry Howley's work has appeared in Harper's, The Paris Review, The New York Times Magazine, The Atlantic Monthly, The Wall Street Journal, Slate, and frequently in Bookforum.She holds an MFA from the University of Iowa, where she was an Arts Fellow and the Provost's Visiting Writer in Nonfiction.
PRAISE FOR THROWN:
"The most bizarre and fascinating book I've read this year. . . . The precision of Howley's prose reminds me of Joan Didion or David Foster Wallace: she's so involved with the fight, it's as if she were trying to eat it with words. Howley writes like someone who's been flayed, all nerve endings exposed, no barriers between her and the world around her."
—Lev Grossman, Time magazine
"This sui generis debut threatens to remap the entire genre of nonfiction. . . . Howley's brilliant prose is as dexterous and doughty as the fighters she trails, torquing into philosophy, parody, and sweat-soaked poetry."
—Publishers Weekly, starred boxed review
"Howley manages to conjure the moments that make fights so thrilling. And it is striking that she manages to do so in a book that is also a very funny satire of the ways in which elites — including, famously, Norman Mailer — often make a fetish of violence and the people who commit it. . . . as dark and funny as anything I have read this year."
—Washington Post
"A truly gripping account of the insular world of MMA—the history, the personalities, the injuries, the money, the white-hot fighters and the foundering ones. . . . Howley stepped into the cage and stepped out of it with something new and stunning."
—Salon
"Engrossing . . . . Thrown is a sympathetic book about people who might otherwise be written off as dirtbags. . . . an intimate, artful look at violence on the smallest scale."
—Chicago Tribune
"In Thrown, a fresh, funny, and highly cerebral treatise on the philosophical merits of cage fighting, she challenges not only the stigma surrounding the sport but the conventions of literary nonfiction itself."
—Boston Globe
"Thrown is the only MMA book anyone ever needs to write. . . . This is easily the best inside-fights book ever written."
—Deadspin
"Readers follow the lives of two mixed martial arts fighters—men who fight in cage matches, who starve themselves, bleed, suffer and inflict as much pain as possible on their opponents. And along the way, we consider matters such as masculinity, brutality and fame. It's a mesmerizing read."
—Houston Chronicle
"Thrown is a triangle choke, a leglock, a one-two-three sequence of humor, passion, and philosophy. It's a knockout debut. A round one win."
—Oxford American
"I don't care about cage fighting, ultimate fighting, MMA; Kerry Howley made me care. . . . The book is about fighting, yes, about an extreme sport and some of the men involved, who maybe aren't, after all, Odysseus or Hector, but possessing of a more earthbound sort of humanity and heroism. It's about the the strong pull of home, the powerful binds of blood, and the press, everpresent, of time. In what we seek, Howley shows us what we fear."
—The Millions
"The fight book of our generation has landed. . . . Thrown is a fantastic debut, and an immediate addition to the great canon of fight-lit, down from Jack London to O.Henry to Oates. If you can navigate this breakthrough in nonfiction, you may feel a bit of ecstasy, too. Howley's contemporaries should feel beat up after reading it; I did."
—The Week
"Thrown is Kerry Howley's masterful debut. A work of rigorous nonfiction that's sure to be branded experimental, but that's as involving and page-turning as any book I've read in a while."
—Gary Shteyngart
"Who can explain what draws a young brilliant writer—and a woman no less—to be mesmerized by the sight of a young man being pummeled in the ring? But out of this passion—maybe obsession—comes a great American story about overlooked heroes, the nature of violence, hope, love and nearly everything else that matters."
—Hanna Rosin, author of The End of Men
"Kerry Howley gives us a front row seat to the dark, brutal inner world of cage fighters. About the yearning dream for fame, the way violence becomes both poetry and obsession, and the way life can lift you up or crush you, this isn't just a masterpiece debut, it's an electrifying classic."
—Caroline Leavitt, New York Times bestselling author of Is This Tomorrow and Pictures of You
"Out of the dank basements and glitzy arenas of a brutal sport, Kerry Howley has created a story that is virtuous, rapturous, and utterly consequential. In language that's as daring as it is astute, she tells the story of two young guys from the middle of America, an overachiever and an underachiever, whom the world, it turns out, has equally little use for. It's a story we've read about a thousand times, and one we've seen nothing else like. This is a gloriously heartbreaking debut."
—John D'Agata, author of About a Mountain and The Lifespan of a Fact
"Lyrical and brutal in its subject matter, the poetic voice within offers humor, heart, and grace from the first page and kept me in awe until the end. This is a powerful book reminiscent of Hemingway's early work."
—Frank Bill, author of Crimes in Southern Indiana and Donnybrook
"It probably started with Homer….Writers ever since have been probing athletes for signifiers,for metaphor amped by grit under pressure. Now the erudite essayist Kerry Howley makes her full-length debut in this sweaty but honorable tradition. She endows it with sly humor, trenchant vision and a curious twist on our concepts of genre. . . . Howley depicts it all with piercing skill. . . . Thrown is compulsively readable, informative, hilarious. . . . It is also a ferocious dissection of the essence of the spectator."
—New York Times Book Review
"Three years in the lives of two Midwestern cage fighters as seen through the eyes of a neurotic academic. A poetic portrait of a bloody American subculture, and a knockout of a nonfiction debut."
—O, The Oprah Magazine
"Kerry Howley embarks on a quest for ecstasy delivered in an unexpected forum: MMA fights. This transfixing nonfiction narrative combines bloody play-by-play with philosophical inquiry, delivering serious punches. Welcome to the Octagon."
—Playboy
"In her highly original memoir, Thrown, Howley follows two local fighters at very different points in their careers, from their training gyms in Iowa to big events in New Orleans, Las Vegas and NewJersey. Hilarious, sometimes tragic, and philosophical, Howley's first book is remarkably innovative and self-assured. It's a sly, unexpected and endlessly promising debut."
—NPR.org
"Funny, sad, sharply rendered, Thrown does what all literature aspires to do — to bring us into a community, a universe, we did not know we cared about and in the end leave us shattered and revealed."
—Los Angeles Times
"An exciting brand of nonfiction depicting the darker side of the American dream. . . . Kerry Howley's Thrown, which spends three years inside the trenchant subculture of mixed martial arts cage fighting, following two men from desolate Des Moines fairgrounds to Vegas arenas and in worlds beyond as they battle to win and as they battle the unraveling of their separate lives, is both part of that tradition and an intimate, front-row look at two stories of hope, glory, and violence."
—Vogue
"Phenomenology grappling with Mixed Martial Arts."
—New York Magazine, "The Approval Matrix"
"Thrown is a rare literary and philosophical foray into the lives of mixed martial artists that celebrates and examines mixed martial arts' place in American culture. . . . Her outspoken, opinionated narrator explains what it is about a mixed martial arts bout that makes her feel more alive, hyper vigilant, and ultimately satisfied."
—VICE
"In Thrown, Kerry Howley's inventive nonfiction debut, inflicting injury is the point: two halfnaked men, inside a metal cage or 'octagon,' punch, kick, and grapple using a combination of techniques, often leaving one another bloody and broken. . . . Howley is a talented stylist outside the ring as well. Her evocations of everything from a Las Vegas buffet to a screaming child have a thrilling pleasure of their own."
—Boston Review"
"A philosophical examination of the maligned subculture of mixed martial arts 'cage' fighting. As an unhappy graduate student, Howley wandered from a Des Moines academic conference into a cage match and became entranced, meeting one of two fighters she would follow as a "spacetaker." As she notes of MMA's roots in Brazil, '[f]ighting had to be born in the one place where ecstasy remained the organizing principle.' . . . . An original fusion of topic and stance that will appeal to fans of NPR-style social investigations."
—Kirkus
"Joyce Carol Oates wrote about boxing, joining Hemingway and others who also were entranced by the bloody art of hand-to-hand combat. Howley isn't just enamored, however. One night, she stumbled upon a mixed-martial-arts match and discovered that her 'thoughts could whip and whistle their way across the mind without the friction I'd come to experience as thought itself'—which she deems 'ecstatic experience.'"
—Booklist
"Thrown is the best sort of essay, not an argument, but an antidote."
—The Rumpus
"Thrown, Howley's chronicle of the pursuit of this "ecstasy" is The Great Gatsby from Gatsby's perspective. . . . Thrown is one of the most ecstatic books you'll ever read." —HTMLGiant