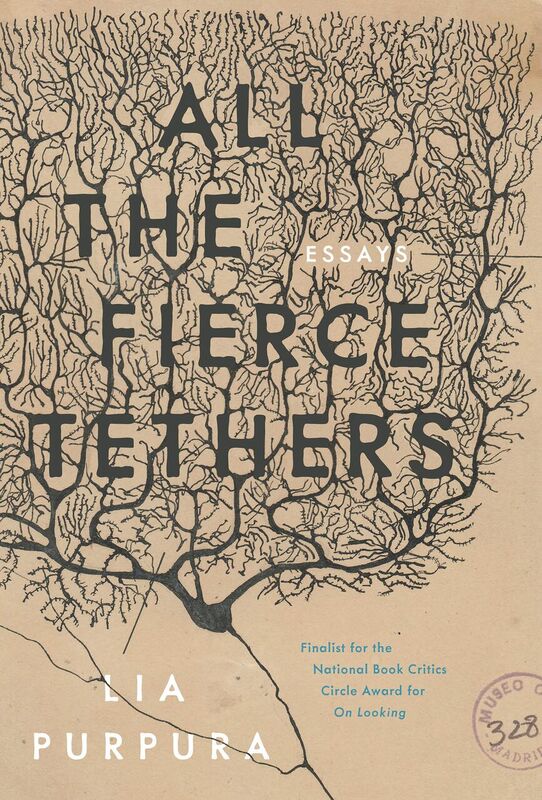 Titles 2019-
All the Fierce Tethers, Lia Purpura
Readers familiar with Lia Purpura's highly praised essay collections—Increase, On Looking, and Rough Likeness—will know she's a master of observation, a writer obsessed with the interplay between humans and the things they see. The subject matter of All the Fierce Tethers is wonderfully varied, both low (muskrats, slugs, a stained quilt in a motel room) and lofty (shadows, prayer, the idea of beauty). In "Treatise Against Irony," she counters this all-too modern affliction with ferocious optimism and intelligence: "The opposite of irony is nakedness." In "My Eagles," our nation's symbol is viewed from all angles—nesting, flying, politicized, preserved. The essay in itself could be a small anthology. And, in a fresh move, Purpura turns to her own, racially divided Baltimore neighborhood, where a blood stain appears on a street separating East (with its Value Village) and West (with its community garden). Finalist for the National Book Critics Circle Award, winner of Guggenehim Fellowship and four Pushcart Prizes, Lia Purpura returns with a collection both sustaining and challenging.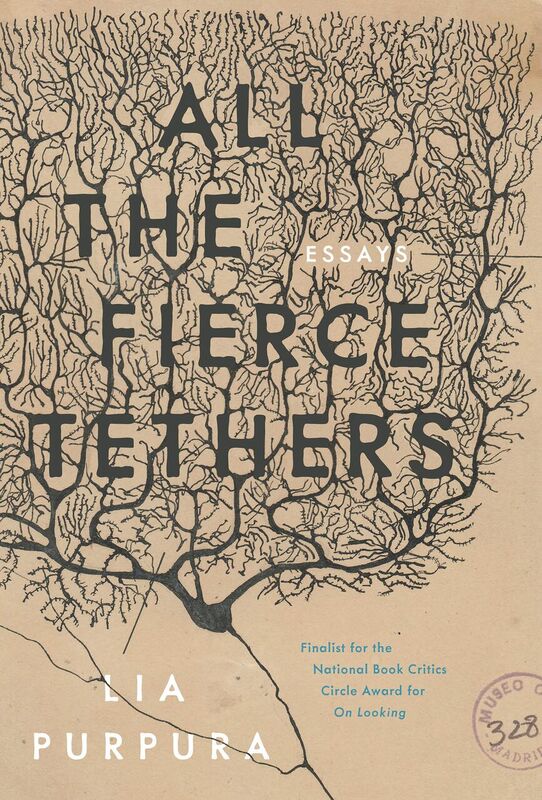 Additional Info
Lia Purpura is the author of eight collections of essays, poems, and translations. On Looking (essays, Sarabande Books) was a finalist for the National Book Critics Circle Award. Her awards include Guggenheim, NEA, and Fulbright Fellowships, as well as four Pushcart Prizes, the Associated Writing Programs Award in Creative Nonfiction, and others. Her work appears in The New Yorker, The New Republic, Orion, The Paris Review, The Georgia Review, Agni, and elsewhere. She lives in Baltimore, MD.
PRAISE FOR ALL THE FIERCE TETHERS:
"[Lia Purpura] evinces great skill as a prose writer in this volume of meditations on nature and society. . . . Amid the numerous essay collections driven by concern over climate change, Purpura's stands out for its passionate intensity."
—Publishers Weekly
"'Metaphors get compromised. Get eroded and need updating. Rerouting. Reconstituting,' writes Lia Purpura. This is just one of the luminous themes mined in her glittering new essay collection All the Fierce Tethers. In prose that is inventive, with ideas that contract and dilate with fluidity, Purpura considers the mundane and crafts powerful essays that traverse the landscapes that surround us."
—Foreword Reviews, starred review
"[Purpura's] understanding and use of language is impeccable."
—"Lia Purpura reads selections from her new book of essays" by Cole Douglass, The Johns Hopkins News-letter
"In one of the 20 essays found in this collection, National Book Critics Circle Award finalist Purpura. . . quotes her grandmother who advised her to 'steal with your eyes.' This advice may have resulted in the keen power of observation found in Purpura's writing, but here the author uses her eyes to create rather than steal, as demonstrated by her rich descriptions of items such as a three-legged branch, detritus on a city street, freshly picked cotton, a moose in a meadow, and a flowering tree stump. . . . Highly recommended for readers interested in the essay genre and for English or creative writing students."
—Library Journal, starred review
"Witty, friendly, and provocative, Purpura fosters a belief in the authenticity of interaction."
—World Literature Review, print
"To see as Purpura sees is to parse experience closer to its raw, vital core. . . .In this time of ecological crisis, no other way of seeing and being in the world bears greater urgency or promise of revitalization."
—Marlie McGovern, Rain Taxi, print
"[Purpura's] essays read like prose poems, and her love of language is palpable. Best to read this book when you're in a quiet, contemplative head space. And read slowly to enjoy every nuance, every breath, every word."
—"Book Reviews: April 2019" by Lauren LaRocca, Baltimore
"These essays are the kind of encounters I'd drive in bad weather for. Some are a lot like the heat of another warm body in a small space, some like skidding through snow-covered mud at seventy miles an hour. . . . What Purpura's book offers to a reader are thingly confrontations, rendered with more sincerity than irony, with more self-awareness than self-consciousness, and that's all I want from any writer."
—David Grandouiller, Cleaver
"Few writers work as hard as Lia Purpura to interrogate the language of our world, to try to shift our perceptions away from the metaphors we habitually apply to what we see. This act is almost a kind of denial of writing — metaphor, simile, and even cliche are the tools we habitually use to make our observations comprehensible. But Purpura distrusts such simplification, such habits. 'A word is a way to speak about something that really, in truth, no word can touch,' she wrote in her 2011 essay collection, Rough Likeness. Her essays live in the frisson created between the something and the word we've resignedly decided accurately represents it."
—Mark Athitakis, On the Seawall
"All the Fierce Tethers is both a marvel of language and a treatise on our taking the time to stop, look around, and pay attention to our surroundings and, concurrently, to acknowledge the interconnectedness of life and its objects. Written in vibrant, luxurious prose, Purpura leaves her readers looking at the world in a distinct and more vibrant way."
—Nicholas John-Francis Claro, The Arkansas International
"It's a heck of a book."
—Ander Monson, Essay Daily
". . .wonderfully thought provoking and lyrically constructed. . . The book is a portent to be read with care."
—Lanie Tankard, The Woven Tale Press
"Prose in appearance only, her accounts of intimating, then seeing, a moose; following the decomposition of a bird into a 'house framed out, barrel staves, then…the keel of a skiff'; and of being overwhelmed by a crepe myrtle in full, stunning bloom, not only 'make something of the moment,' as [Purpura] continually urges, but make 'each moment of seeing be again its own shining grunt of creation,' in which we are 'found and rearranged.' These essays will do that to you."
—Laurie G., Politics & Prose Bookstore
"Reading this collection of essays is like taking a walk through your neighborhood with a wizard or a medieval saint: Lia Purpura can conjure visions from seed pods, a plastic bag, a city sidewalk, transforming what is right in front of you into what is really there, uncommon, untamed. Under her gaze, the most ordinary things become not just extraordinary, but almost frighteningly radiant. To watch her free, say, a flowering crape myrtle from 'tree' and let it burst into experience is to behold reverence at its most ferocious, precise and delicate."
—Suzanne Berne, author of The Dogs of Littlefield
"In Lia Purpura's work, language is a renewable resource that keeps on giving, restoring wonder to a world of wounds. She is a meditative writer and in her, the life of the mind and senses abide in conjugal bliss. What holds us to this troubled life? A beautiful, associative mind attentive to small gestures, wending its way through our age of contradiction, finding solace and reckoning in language. That's what."
—Alison Hawthorne Deming, author of Zoologies: On Animals and the Human Spirit
"Lia Purpura writes not just for our perilous moment, but for our dead, and the world that will outlast us. Her eye beholds animals and humans with awe, but the awe is never easy or borrowed or impressed with itself. 'The world offers us to ourselves at every turn,' writes Purpura, and though that sounds like a gift at first, it actually comes as a cautionary note. Only a writer of rigor and depth could turn such a shining statement on its head—and still manage to delight. All the Fierce Tethers is a phenomenal achievement of art and mind, but it's more than that, really: it will make you feel alive."
—Paul Lisicky, author of The Narrow Door: A Memoir of Friendship
"Lia Purpura's essays make the tethers between apparently separate things not only visible, but luminous. Frankly, I can think of no better—by which I mean, adamantly, more necessary—quality in art. We are connected to the guy across the way ashing his cigarette. We are connected to the hawk at the dump, the murdered student, the fire ant, each other. And to do it with so much goddamn music! Time and again I found myself re-reading sentences and paragraphs throughout these essays wondering how I arrived where I did. Astonished, and grateful for it. These are some of the best essays I've read in a long time."
—Ross Gay, author The Book of Delights, Essays
PAST PRAISE:
"Purpura puts readers into a state of aesthetic arrest, as well as surprise, discomfort, and, meditative pleasure."
—Donna Seaman, Booklist